Café – Bookshop – Art Gallery – Conference hall – Lecture rooms – Souvenir shop and Tourist information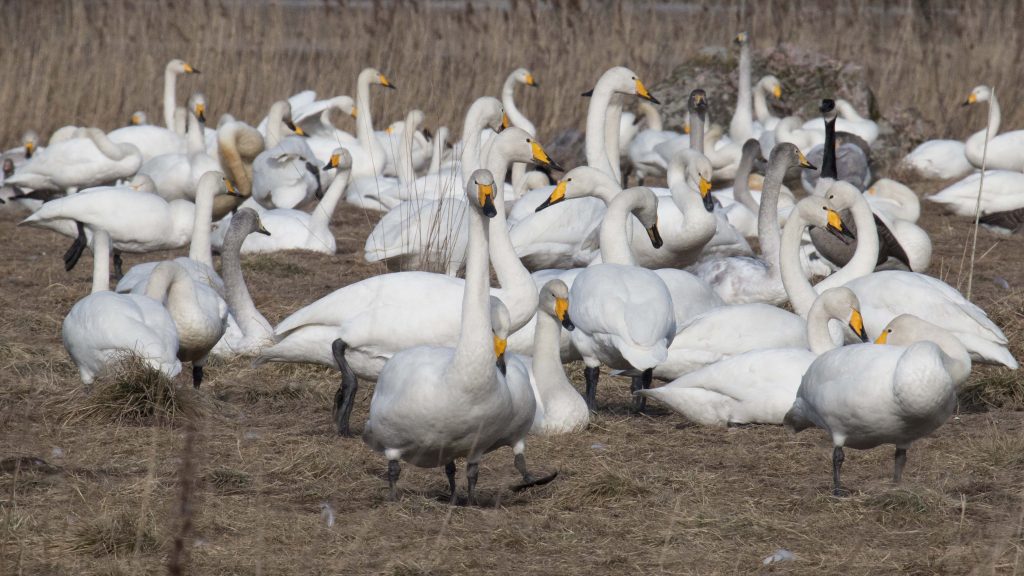 Tysslingen Nature Center is situated by the well-known bird lake Tysslingen at the foot of Kilsbergen just outside Örebro. During the spring it is Europe´s biggest resting place for whooper swans. Tysslingen Nature Center is a non-profit foundation with the mission to raise funds to feed the swans in the spring and other nature conservation activities during the year. The foundation was formed in 2001 through a donation from Gunborg and Lennart Karlsson in Rånnesta. Parts of the old district chief´s farm were cut off to make a visitor´s center for information on nature and the landscape round leke Tysslingen and Kilsbergen, "The Blue mountains".
Our opening hours in summer 2023 are:
11.00am – 4.00pm, Wed-Sat

Our opening hours in spring 2024 are:
Welkome back in spring 2024.
Activities
In Rånnesta the year is filled with many and varied activities. The commencement of spring brings the "Swan rest" which starts at the end of Februari and continues for almost six weeks. At this time thousands of whooper svans rest here on their way to their nesting site in the north. When the swans leave the lake it is time for the waders to arrive. During the summer these then give way to the nightingales, bush warblers and other birds. Bitterns can be heard round the whole of the lake, whilst the sea eagles keep a watchful eye from above.
Activities in Rånnesta are characterized by various theme days, presenting music and illustrated talks. A couple of traditional events are Tysslinge Day and the Winter Market. The café and book shop are open throughout the season as well as the art gallery.
How to find us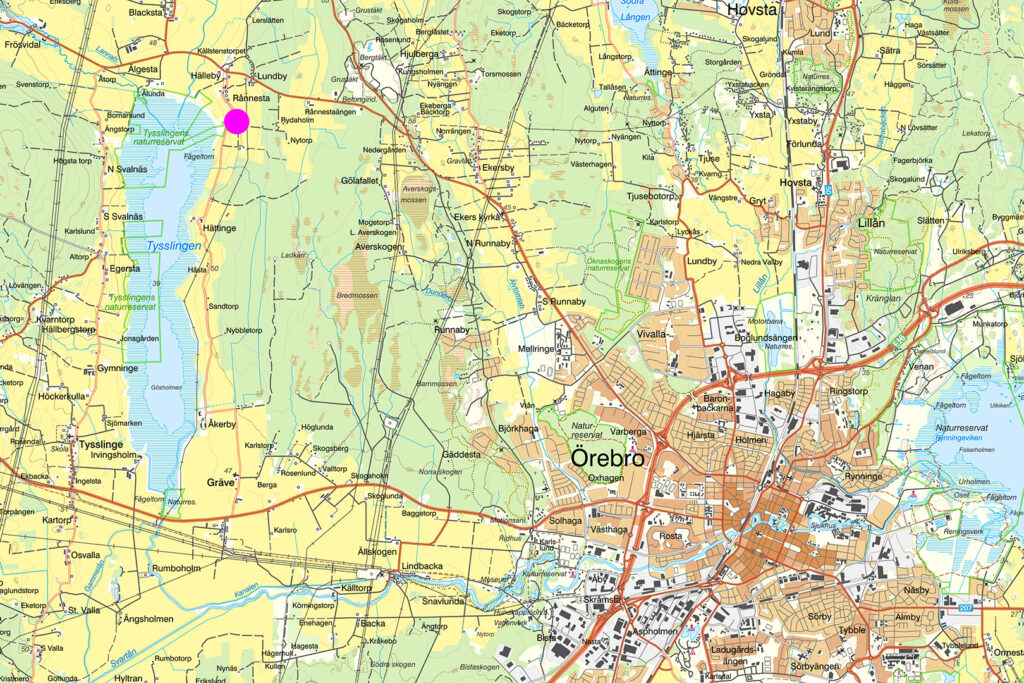 Tysslingen Nature Center is situated by the north end of lake Tysslingen just outside Örebro.
On the thoroughfare E18/E20 turn off by the exit number 113 "Närkes Kil/Tysslingen". Then follow the signs "Tysslingen".
Coordinates: N 59˚20'08 / E 15˚03'44
Contact
If you would like to contact us, please send an email to:
info@tysslingen.nu
or call us:
+46 19 28 30 40
Camp site
If you need a camp site, please contact us for a reservation.
The cost is 200 sek per day.
There are a few parking lots with power outlet.
The charge includes toilet and fresh water, but no shower or drain for sewage.
Rent a hide
To reserve our hide, please send an email.
The cost is 700 sek per day.
You must enter the hide before sunrise and leave after sunset.
We have recently installed a dry latrine.